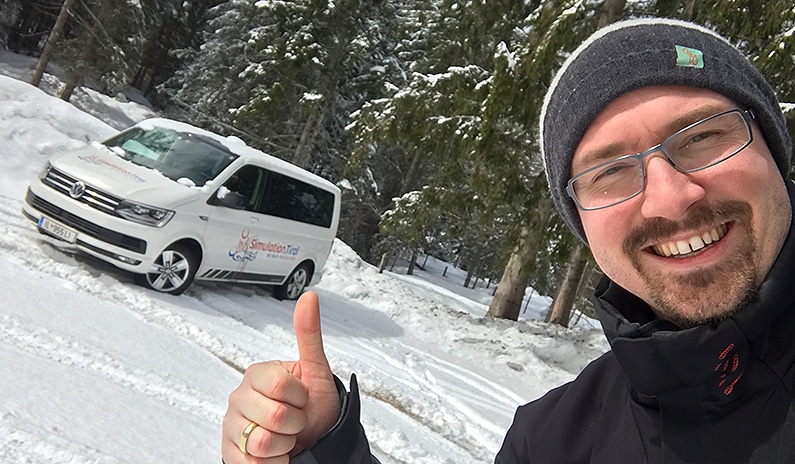 Hinter Simulation.Tirol steht der ehemalige Oberarzt Dr. Daniel Pehböck (DESA). Er hat das notfallmedizinische Ausbildungszentrum im Jahr 2016 gegründet.
Bereits in dieser kurzen Zeit verzeichnet Simulation.Tirol mehr als 3.000 zufriedene Kursteilnehmer und zeigt, dass das Konzept "Trainingsleitung nur von erfahrenen Ärzten mit viel Know-How" erfolgreich angenommen wird.
In der Kursgestaltung hat sich Simulation auf 2 Bereiche spezialisiert: Training für Ärzte und andere medizinische Berufe auf der einen Seite, Kurse für Privatpersonen und Firmen auf der anderen Seite.
Our special fields at a glance
Kurse für Ärzte und Fachkräfte
Kurse für Firmen & Private
In order to be able to guarantee really top lecturers for all these courses, Luckner and Pehböck have put together a whole team of trainers and organizers.
Your advantages in the course
Training in small groups
Our courses are only held in small groups of a maximum of 5 (doctors and medical staff) or 6 (companies and private individuals) per trainer. This is how we guarantee you intensive supervision at the highest level.
Human-like high-tech simulator
Our simulator breathes, turns blue, gets high blood pressure, etc. You can inject him with medication, cardioverter, defibrillate or pacen – he simulates the reaction of a real patient.
Only AHA-certified senior physicians as trainers
Our trainers are all AHA-certified and come directly from the practice. All are senior physicians, emergency physicians and/or anaesthetists. We live what we teach.
Trainings possible throughout Austria
Our system is 100 percent mobile. We can therefore accept course bookings for the entire German-speaking region. In fact, we are so mobile that we can carry out training courses ourselves at the riverbed or in the mountains.
Tax deductible for physicians & companies
All trainings at Simulation.Tirol are tax deductible for doctors, medical staff and corporate clients. You will receive a detailed invoice, as it is necessary for your tax office (also abroad).
Top debriefing unit for debriefing
We reproduce crystal clear images and sound. To maximize your learning effect, our debriefing unit consists of state-of-the-art stage technology with multiple cameras & microphones.
Top Catering & Ambience
Our training locations are top hotels and the kitchens in these hotels are unique. We want you to feel comfortable learning and to be able to fully focus on your course.
What participants say about us
I can recommend the Shockroom-Training at Simulation.Tirol without any restrictions. Realistic group sizes of 4-5 persons and sensitive specialists as trainers were the key to success for this great advanced training from my point of view. Thank you for this great course concept. I will be very happy to visit you again soon.
Simulation Tirol offers through its three training pillars experienced senior physicians, small groups training on the highest quality material the greatest possible learning success. Simulation Tirol is an ideal and innovative partner to optimize medical skills due to the strong training concept combined with the will to offer the highest possible quality. The high-quality training with Simulation Tirol will bear fruit and pay off.
At the end of the day, this ECG course took me to my next level according to the motto of Simulation.Tyrol. Especially the small group size, the entertaining and entertaining way to bring knowledge closer as well as the exciting simulations speak for the course.
The scenarios were as realistic as never before, the available "dolls" made the work much more pleasant, since one could put oneself much better into emergency situations and play through these also up to the end. I would immediately attend another training day.
After 2 days of PALS course I can say that this was one of the best training courses I have attended in this area. The lecturers perfectly responded to the individual level of knowledge of the participants. As an emergency paramedic in a group with doctors and nurses, I was able to take a lot with me.
Our partners and references